Manual time sheets and systems rely heavily on skilled HR or management staff performing laborious calculations based on  handwritten paper records, that may be difficult to interpret.
Traditionally, time and attendance tracking has been a manual and labor-intensive process, with employees filling out timesheets by hand, and turning them into the payroll department. Payroll staff would then re-enter the information into payroll systems for processing .
This method of time tracking and reporting is fraught with error because it relies on the accuracy of individual payroll staff who manually transcribe information from one system to another.
Organisations that use manual timesheets sometimes overpay employees due to manual calculations- which become even more tedious when calculating a total number of hours worked, lateness, absenteeism etc. at the end of the month when salaries are being prepared.
Automated time and attendance systems, like the payDayNg, are the modern equivalents of manual time sheets.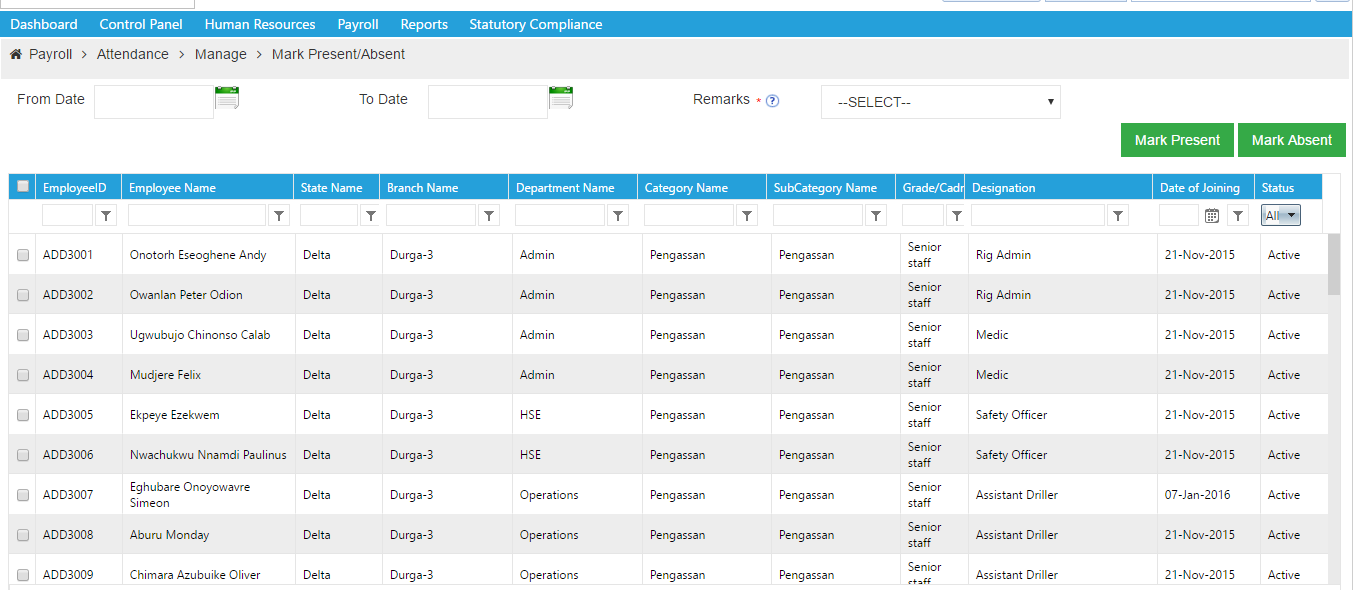 The time and attendance systems also automate functions such as tracking work hours, leave period   and provide a robust report that can be used to make scheduling and other business decisions.
Any exceptions like breaks and overtime can be entered and accounted for as well. This saves a great deal of payroll processing time every pay period.
It also helps in creating a reliable audit trail to simplify compliance tasks.
Features of The PayDayNg Time and Attendance Module
Attendance Calendar management
Real-time data from Biometric/Swipe card device/ Face recognition system
Attendance month setup to take into account the cut-off provision- pay salary on date 1st of every month e.t.c
Attendance can be imported through excel sheet
Employees shift rotation facility
Flexible and regular shift types with night shift functionality
Dynamic off-day/ week-off setup according to state, Branch, Employee Grade/Cadre or Employee specific
Timing policies for grace period, late hours, working hours e.t.c
Set any working day to non– working day and vice versa in case of riots e.t.c
Employee overtime management
Benefits of Automating a Time and Attendance System
Saves Time – Time and attendance systems automate all of your tedious payroll tasks, such as calculating employee work hours. It processes your payroll information quickly and effectively.
Increased Accuracy – You will no longer have to worry about human error in calculating employees' payroll.
Prevents Time Theft – Automated time and attendance system makes it harder for employees to cheat on hours. An employee who is running late can ask a co-worker to punch his or her time slip. But if your time and attendance system uses a proximity card to clock in employees when they arrive, it's much harder to cheat the system.
Report Generation – An automated time and attendance system also comes with a reporting tool. The system can generate earnings and deductions, workers' compensation or direct deposit reports. You can export and save reports to Microsoft Word or Adobe PDF formats.
If you need more information about your payroll maintenance services or you want Magnet Consulting to manage your payroll system, call 01-4542116, 08084708847. Visit the Magnet Group blog for more tips on managing your payroll.